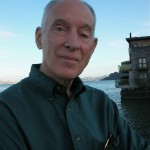 I am a retired software salesman working in support of the ABC (Albuquerque-Bernalillo County, New Mexico) Community Schools Partnership.
Frank Mirabal, VP Educational Support at YDI, and I, are co-Chairs of the Partnership's Policy and Planning Committee.
I have worked with census and other demographic data in analyzing social and economic issues. I have also worked with computer graphics/mapping for making data and concepts more "reader-friendly" for non-technical mortals.
I went from kindergarten through high school just 3 hours north of here in Southern Colorado's San Luis Valley. I lived in San Francisco for 9 years where I worked, served in the Navy Pacific Fleet, and graduated from San Francisco State College. In 1965, I moved to Washington, D.C.
In Washington, I helped build a small social/demographic data analysis company, sold early Executive Information System software to the Department of Defense (DoD) and taught computer graphic executive management systems at the DoD Computer Institute. Through these, I came to love the idea of 'graphicalizing' data and information to create user-friendly understanding for normal, non-technical people.
A friend from high school once told me, "You can take the boy out of the west, but you can't take the west out of the boy" … it's true … so in 2001, artist Patricia Forbes and I moved from Washington to Albuquerque.
As an aside …
A 2004 conversation with Albuquerque's Mayor Martin Chavez led me on a two-year project that resulted in an April 2006 installation of the 4 ft x 16 ft Albuquerque History and Culture Timeline in the East Wing of the Convention Center as part of Albuquerque's 300th birthday celebration.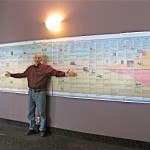 In 2009, a 3 ft x 12 ft sister copy was installed in the passenger waiting area at the Albuquerque International Sunport in recognition of the airport's 70th anniversary.