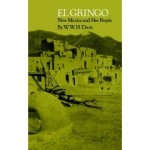 El Gringo – New Mexico and her people by W. W. H. Davis  (1820 – 1910) — Originally published 1857
Davis was a veteran of the Mexican War of 1846-48, and returned to New Mexico in 1853 to become United States Attorney for the territory. He traveled with a few changes of clothes, a two-book law library and an ravenous curiosity. He thoroughly journalled his entire trip and travels throughout New Mexico.
The thousand-mile journey from Independence, Missouri to Santa Fe would take 25 days by mule train. They traveled in torrential rains and drifting blizzards; many slept on the ground under the wagons for shelter, and many meals were skipped due inclement weather.
His description of New Mexico is one the earliest full-length accounts to appear in English and provides a stunning picture of a newly conquered land, covering custom, language, landscape and history most likely to interest general readers.
"There is no country protected by our flag and subject to our laws so little known to the people of the United States as the territory of New Mexico. Its very position precludes an intimate intercourse with other sections of the Union, and serves to lock up a knowledge of the country within its own limits. The natural features differ widely from the rest of the Union; and the inhabitants, with the manners and customs of their Moorish and Castilian ancestors are both nerw and strange to our people. For these reasons, reliable information on this hitherto almost unknown region can not fail to be interesting to the public."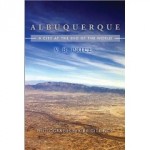 Albuquerque: City at the End of the World by V. B. Price – published 2003
In focusing on Albuquerque, Price has done the city an estimable service. For visitors and residents alike he has sorted out the most exciting positive aspects of Albuquerqueas historical and present-day identities. His book can be read with interest and profit by city lovers everywhere, but above all his messages deserve an appreciative, heedful response in this particular place.
This impassioned book, both a loving description and a critique, defines urban values in a milieu that is rarely recognized as a city. Updated more than ten years after its initial publication, it is more relevant than ever to Albuquerque's future. A new chapter describes Albuquerque's recent development, placing it in the context of urban growth in the West.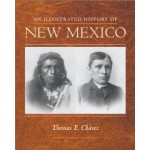 New Mexico – Past and Future by Thomas E. Chavez – published 2006
Thomas Chávez feels that dates and names are relatively unimportant. Relative time and cause and effect are the important keys to making sense of any history. History is the story of human beings—people who feel sadness and happiness and pain, people who lived in the land that came to be called New Mexico.
Chavez divides New Mexico's history into five sections: the period before the Europeans arrived; the Spanish colonial period, which began with the first European expeditions into the area in 1536 and ended when Mexico broke away from Spain in 1821; Mexican Independence was the third and shortest period of New Mexico's history, lasting until 1846; the Territorial Period, which began officially in 1850 and lasted sixty-two years; and finally, the statehood period, which began in 1912 and continues to this day.
New Mexico is the only official bilingual state in the Union. Election ballots are printed in Spanish and English, state driving examinations are offered in Spanish or English, and the twenty-two American Indian tribes and nations in the state maintain their own languages as well.
"New Mexico is the only state in the Union that has 'U.S.A.' on its automobile license plates. This is not done out of any sense of patriotism. Rather, New Mexicans learned early on that they needed to explain to the rest of the country that New Mexico is one of the fifty states. There still exists a lack of understanding about New Mexico."–from New Mexico Past and Future
Thomas E. Chávez is the former director of the National Hispanic Cultural Center in Albuquerque, and the former curator and director of the Palace of the Governors Museum of New Mexico, Santa Fe.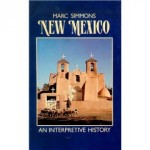 New Mexico, an interpretive history by Marc Simmons –
Published 1988
One Amazon reader said, "This book was a very easy to read book.It displayed a different perspective about the history of New Mexico and it's people.Also,many significant events New Mexico helped shape are described in detail.The book covers the different periods in NM in a clear and focused manner,from Spanish conquest to Statehood and beyond.This book is perfect for persons wanting to learn about NM and the southwest."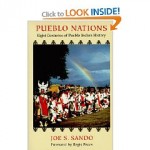 Pueblo Nations: Eight Centuries of Pueblo Indian History, by Joe Sando, 1992
One Amazon reader said, "As a member of the Sun Clan of the Jemez people, Joe Sando was in a unique position to research and write this history. As a scholar trained at Eastern New Mexico State and at Vanderbilt, he developed his skills as an historian. As a person he retained his empathy and humanity while confronting the unjust policies that have been visited on the Pueblo peoples by the Spanish, Mexican and United States governments. If you are interested in a well-balanced, incisive history of the New Mexico Pueblo people (the Hopi are not covered here), this book is worth the money to buy, the effort to read and the time to understand."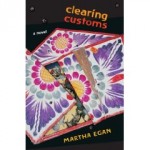 **  Great Albuquerque Adventure Read  **

Clearing Customs, by Martha Egan (July 2009), is a new and rollicking good read!  And a lot of it takes place in and around Albuquerque and Santa Fe.
It is worth noting that this story takes place in 1988-99, long before the Patriot Act's privacy invasions became commonplace.  The book's protagonist and heroine is Beverly Parmentier, owner of a small Latin American folk aft and antiques importing store in Old Town.
How Beverly finds herself and her store under surveillance by U. S. Customs Service is a humorous happenstance of President Reagan's Central American policies and a relentless and opportunistic Customs Service Albuquerque Station Chief. The story shifts into high gear from there and never lets up until the last pages.
Beverly (Martha) relates in detail her surveillance as the story careens from Albuquerque across the country.  They include Customs Service employment of Vietnam Vets and taxpayer funded junkets to "surveil" Beverly from Albuquerque's Old Town, North Valley, Santa Fe, Washington, D. C., a Colorado river raft trip, and a Caribbean island "getaway."  You'll howl both in laughter and in anger, over the ineptness and relentlessness of the federales abuses of power.  And then you will smile wickedly at the justice of the finale.
Lots of familiar territory and names and places throughout should make Clearing Customs, a particularly enjoyable read to everyone familiar with Albuquerque, Santa Fe, New Mexico … or U. S. Customs.